I'm continuing the Pinterest goodness today and am super (SUPER) stoked to welcome my friend Stacy from Kids Stuff World. I consider Stacy one of my first bloggy friends- we met through blogging waaaay back when Adventuroo was new. As a new person in the blogging space, she made me feel welcome (now if only we could meet in person!). Stacy is a ROCK STAR on Pinterest… growing to over 230,000 followers is no small feat. Her boards are amazing and if she re-pins something of yours, your blog bandwidth better watch out! She's here to share some of her best tips on rocking Pinterest like a pro!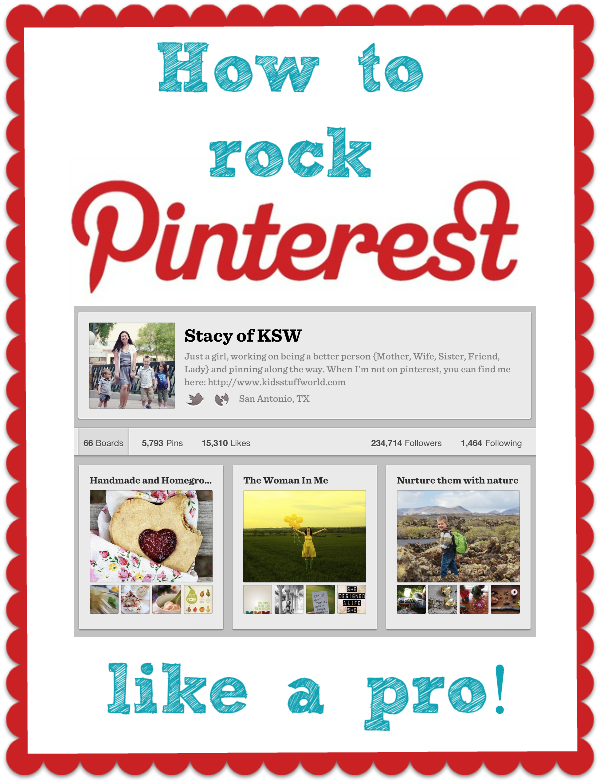 Hey there Blog Clarity friends!
Can't tell you how excited I am to be here with you today. Melissa and I have been blogging buds since waaaay back before there even was a Blog Clarity. She's not only a friend and trusted confidant, but also my go to-gal for all things blogging, marketing and social media related (you can check out the blog critique she did for me back in the day, here). That's one of the reasons I am so stoked to be here, I finally get a chance to help her out a bit!
Today I am going to tell you some very important tips to help you, as a blogger, get the most out of Pinterest. I, personally, have been blogging for coming up on 4 years now and while I love it very much, it was never anything I was going to make a living from. Pinterest, changed all of that for me, it has opened up doors I never even imagined and quickly turned my life upside down in a very good way. I'm happy to tell you I am now a full time blogger and pinner extraordinaire! Not only do I have a large following on my own Pinterest account, but I am also doing content strategy, consulting and management for some very cool brands on Pinterest. Life is good.
I think life should be good for everyone, so I'd love to share a few practical tips to get you rocking Pinterest in no time.
Step 1. Verify for website on Pinterest
See that little red circle next to my website there in my profile? Pinterest added a new feature recently that lets you claim ownership of your web address and get a clickable link to it listed in your profile. I put mine in last week and I am already noticing a significant increase in traffic to my blog coming from my profile page. Win!
To get your site verified, follow the steps here or if you are on WordPress and not as comfortable with uploading files to your server, you can try this workaround.
Step 2. Sign up for Pin Alerts.
Pin Alerts is a handy tool, like Google Alerts, that notifies you when someone pins content from your site. If you are uber Pinterest popular, this could be overwhelming but they do have controls in place so you can choose to be notified whenever someone pins your content, or opt to receive a daily or weekly summary instead.
I like this service for two reasons, one – I like to get to know my readers, and two, gaining a glimpse at the type of content they appreciate can be a powerful tool in helping you grow your audience and define your niche.
Step 3. Schedule bulk pins using Pingraphy
NOTE FROM MELISSA: Pingraphy is now ViralTag, which has a hefty monthly fee (but IS awesome). Try Ahalogy for another option.
Ever wish you could hang out on Pinterest all day? Yeah, me too. How about those nights when you strike gold and feel the need to pin 90 things in a row … don't worry, we've all been there! This is where Pingraphy comes in handy. Now you can schedule your pins to appear at designated intervals throughout the day!
Not only will this help you reach a larger portion of your audience, but it will also keep your friends, family and coworkers from seeing how much time your spending on Pinterest. (disclosure: no I did not just tell you, you could pin at work all day and have the pins scheduled to show up during off duty hours. That would be irresponsible of me.)
Step 4. Gang Up!
A blogger's bread and butter on Pinterest is getting your work out there and circulating, and believe me when I tell you there is power in numbers ladies (and gents)!! Take a look at a few of these boards to see how bloggers are rocking it collectively, getting their content front and center.
As you can see, there are plenty of these boards out there already and even better, plenty of room for more! So round up your circle of girls and get creative with a board title. Do a quick check to see who has the largest number of followers when they create a new board …. this is the key, total number of followers on Pinterest is deceiving … they could have one very large board and the rest of their boards still be rather small. You need the girl (or guy) with the largest cumulative audience.
Once you know who that is, create your board and establish your ground rules.
How often can a blogger pin?

What types of posts are acceptable? For example, will you allow giveaways to be posted there?
The key to success here is for all of the contributors to choose carefully the quality of content they post in these boards. If you have a fantastic post, but sucky photos … crank out a cute text graphic for it in PicMonkey and use that to draw readers in.
I hope you liked these tips. I have so many more for you guys … with any luck … Melissa might let me come back again sometime and share a few more with you! Until then, if you have a question post it in the comments here or find me over on the KSW Facebook page.
Stacy Teet is a professional blogger and mother of three. When she's not writing articles for Sulia, or consulting with brands, you will find her on Pinterest. Recognized by Babble as one of the Top 50 Parents on Pinterest, she focuses on pins that really resonate with her and in turn, help a lot of moms and women. She's up for a Red Tricycle "Totally Awesome" award for Prettiest Pinterest Boards right now (votes appreciated). In her "spare" time, she enjoys spending time with her family and pretending she's an iPhoneographer. She writes about the little things, the big things and all the "stuff" in between at Kids Stuff World.
Want to Boost Your Traffic with Pinterest (No Matter What You Blog About)?
Take Blog Clarity's course, Pinning Perfect! Taught by Anna Luther from My Life and Kids, this course will transform you into a Pinterest power user! In this 2-week online course you'll learn:
The traffic-building way to organize your boards (no, they shouldn't all be in alphabetical order)
Collaborative Boards — how they work, how to find them, do's and don'ts… and why you shouldn't rely too much on them
A step-by-step process for pinning your posts (including one trick to pin your posts more frequently without annoying your followers)
A pinning strategy cheat sheet that works! (HINT—don't pin randomly!)
And More!
You'll also get insider information, such as the top 250 most-searched terms on Pinterest and a calendar that shows the trending topics for each month of the year.
See available session dates here!
Is Your Blog in Tip-Top Shape? Find Out!
Get this free DIY Blog Critique to see what's missing from your blog's design, navigation, and content.